Kids are back in school…
… so last Wednesday I went to my first writing group since the end of May. I think that's about three and a half months. Yeah, that sounds about right.
So… what did I write about? I had trouble coming up with something at first but then I just plugged into my headphones and let my mind wander.
"Creative thinking can be an extension of ordinary mind-wandering, the researchers explained, and a growing body of research has linked daydreaming with creativity."  — https://www.huffingtonpost.com/entry/mind-wandering-creativity-mental-illness_us_5818acc4e4b0990edc33827a
Then again…
"Mind-wandering has been associated with possible car accidents." — https://en.wikipedia.org/wiki/Mind-wandering
Uh… what was I talking about again?
Ah yes, my inability to keep myself focused on anything because I am lazy. Thank's.
So I got down ~ 2,000 words but by the end of the hour, I had only ~ 1,000 left. That backspace key kept jumping underneath my fingers as I went. I was happy with myself.
Once the group was done with our efforts the group started chatting about stuff and I happened to mention this link…
I've never had the funds to afford something like this before but thanks to getting away from the Dwight, I do now. I think I'm going to start saving up for the 2019 cruise. Now I just need to find a way of breaking the news to my wife that I want to ditch her and the kids and go on a cruise without them. Yeah… I don't care how much creativity you have, this doesn't sound like its going to go over well.
😛
We also discussed finding critique partners and how hard it can be. Getting along with a spouse/sig-other is hard enough but having to find a complete stranger that you can trust with your mental mush-mussings who won't just ghost you due to… you know what? I swear it's almost like dating all over again.
People suck (Hi Dwight!)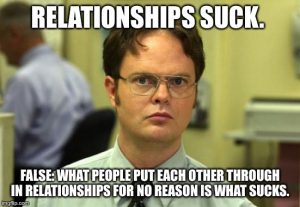 Yeah!
Wait… is Dwight right? Huh…
Oh jeez…
Now I'm agreeing with a narcissistic a-hole.
That makes me feel as if I'm in a difficult spot.
*SHAKES FIST AT THE SKY*
"Damn you to Scranton and back you foul Harpy!"
😛
Okay, that's it for now.
Tootle's peeps 🙂